Spotlight on Pooler Surgery Center nurse, Diane Kenny
Diane Kenny, BSN, RN, CPAN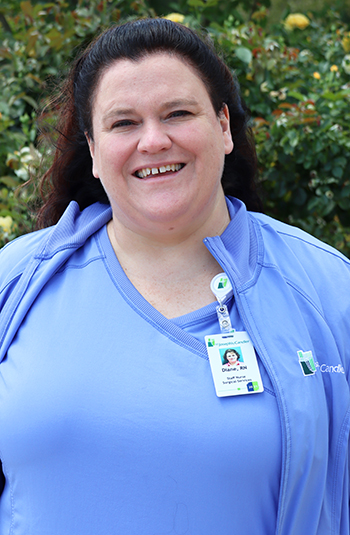 Staff nurse at our SJ/C Pooler Campus Surgery Center
Nursing: 24 years

Education: Armstrong State College

SJ/C: Why did you decide to become a nurse?
Diane: I knew I wanted to become a nurse when I was a young girl. I had an aunt that was a nurse, and I pretty much idolized her. I knew from a very young age that's what I also wanted to do.
SJ/C: Why did you choose St. Joseph's/Candler to spend the majority of your career?
Diane: I actually started as a pharmacy tech at St. Joseph's Hospital while I was in nursing school and back then there was a scholarship program that would help you pay for your nursing. It also guaranteed me a job once I graduated. I have just always gravitated towards our system.
I think St. Joseph's/Candler is an absolutely phenomenal system and a great place to work. I have been very fortunate in my nursing career. Every place I've worked in this system, I've had wonderful coworkers. It truly does make all the difference in the world. When you have a situation where you work well with your team and work together to achieve a common goal, it really is a blessing. I was right out of nursing school and had a couple of great preceptors take me under their wing and absolutely helped me realize that this is what I want to do with the rest of my life. I am forever grateful for those ladies. All my co-workers have been great, and it does make a huge difference.
SJ/C: Why did you decide to work in the surgical areas?
Diane: I love the fact that I get to see an end result. I get to see these patients feel better and go home. I think that's part of the main reason why I've stayed in this area. I get to see the fruits of my labor, basically. I make sure they are comfortable, not hurting. I get to help with all of that.
SJ/C: What is the nurse's role on the surgery team?
Diane: We have pre-op nurses that get the patients ready for their procedure or surgery. We have intra-op nurses that circulate the OR, and then we have recovery nurses. I can pre-op, post-op, and I've circulated some too, but primarily I work post-op, getting the patients recovered from surgery and discharged home. We do have nurses that specifically do pre-op or intra-op or post-op. All of us have a little part in it. It's a giant team effort.
SJ/C: Are there challenges that come with being a nurse in a surgery center?
Diane: They are. Of course with any surgery, there's always risk. You have to be able to recognize any issue and respond to that issue so that optimally the patient will get to be where they need to be. It really tests your critical thinking skills because you have to be able to recognize if someone is not doing well and figure out what's going on. We always have anesthesia here with us, and they are a huge part of that, but I also think the nurses that work here, the majority of us have been nurses for quite a while. We work great together and everybody is tuned in to look for those nuisances that maybe this patient isn't doing so well.
SJ/C: The Pooler Campus has been open for more than a couple of years now. What's it like working at that campus?
Diane: I love it. I work closer to home, and I don't have to get into Savannah traffic any more – that's a huge plus. I know the patients feel the same way. But like I said, the people that work here, we all really work well together. I think that's super important. If you have a good team, that makes things so much better, especially for patients. I think that's a large, large part of why I love being out here.
SJ/C: What does it mean to you to be a Magnet nurse?
Diane: I think it really enhances our appeal to the public because they realize we've gone through all these strenuous inspections. I think it's pretty important, and I'm proud that we've been able to maintain our Magnet designation.
SJ/C: What advice would you offer to new nurses or someone considering a career in nursing?
Diane: Never be afraid to ask questions. No one knows all the answers. I can remember being a young nurse, my preceptors probably thought I'd never shut up because I'm the type of person where if I don't know the answer, I need to find out the answer. I think that's the biggest thing – never be afraid to ask questions. Do not assume; do not make an uninformed decision because you could really, really hurt someone if you did.

Family: Married
Hobbies/interests: Spend time with family as much as possible and travel