Spotlight on Eileen Gardner, home health nurse with St. Joseph's/Candler Home Health Care
Eileen Gardner, RN, BSN
Home Health Nurse
SJ/C: Why did you decide to become a nurse?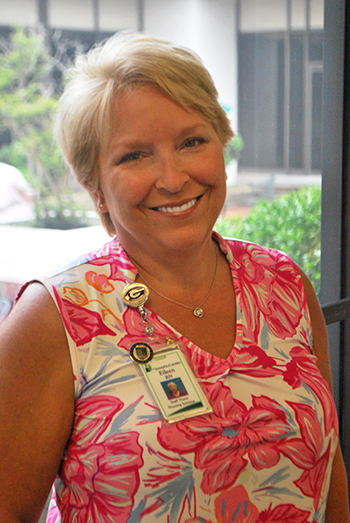 Eileen: I have a son with special needs. He was brain damaged from birth, so I became an authority on his care. I always wanted to be a nurse but it never fit into the early life I had. When I was 34 I went back to nursing school and graduated at 37. I was a labor and delivery nurse for 14 years, and then move to home health two years ago.
SJ/C: What do you love about being a nurse?
Eileen: I love being able to help people and getting to meet different people. I've got people that I am friends with that I delivered their baby years ago. I've got people that I am friends with that I took care of in home health that still send me Christmas cards or texts just to say hello. It's just making a difference in someone's life. That's the biggest thing.
SJ/C: What made you decide to go into home health care?
Eileen: I was looking for something a little different. The nice thing about nursing is it is so diverse; you can go and do anything. I needed a little more flexibility with my shifts because of my son's care. He actually got home health after a surgery he had a few years ago. I started talking to her, and it made me think this might be something I would like and give me a little more flexibility with my schedule. That's what gave me that push I needed because it's hard to change from something you've done your whole career to something different. I'm so glad I did.
SJ/C: What are some things you enjoy about being a home health nurse with St. Joseph's/Candler?
Eileen: I love home health. I wasn't used to taking care of sick people. Most of our patients in labor and delivery were well, unless they were high-risk. I am working with older people who – for some – are facing the end of their life. I've gone from one extreme to the other. It is challenging, like learning a whole different language, but I love it. Believe it or not, I like the wound care part of the job, which I wasn't sure I would enjoy, but I love seeing what we do and how it's improving their wounds. I like seeing people get better. Sometimes it's hard to say, 'It's my last visit because you're healed.' I love meeting people and going into the home is fun. Most people have been open and welcoming, and they want you to be there and take care of them.
SJ/C: What advice would you have to others out there – whatever age – that are considering becoming a nurse?
Eileen: It's the best job ever. It's the hardest job, other than being a mother. It's such as rewarding career. I think it takes a special person to be a nurse. You see the benefits of what you do when you see the person out in the community, and they are better. I saw a former patient at Kroger the other day, and I remember when she was 90 pounds and pale, and now she looks so much better. She said she felt so good. And then you know what you did worked and was worth it. I really think it's the best job ever.
Family: Husband with three children and three stepchildren and one granddaughter
Hobbies: Work in the yard, go to the beach and spend time with family