Spotlight on Lisa Loadholt, Mary Telfair Women's Hospital Neonatal Intensive Care Unit nurse
Lisa Loadholt, BSN, RN
Resource Coordinator and staff nurse, Neonatal Intensive Care Unit, The Mary Telfair Women's Hospital at St. Joseph's/Candler
Been with St. Joseph's/Candler for 34 years
Education: Armstrong, BSN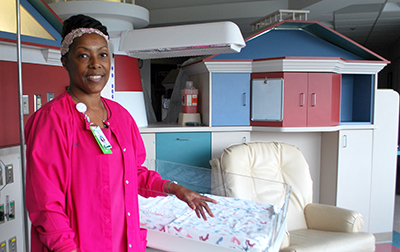 Certification in Level II Nursery
SJ/C: Why did you become a nurse?
Lisa: One of the major reasons I became a nurse was, of course I love helping people, but I had an experience with my mother. She had a terrible accident on the Talmadge Bridge. She hit the guardrail, and thank God didn't go over. I remember going to see her in the emergency department and seeing her head gashed from top to the middle. I thought if I could handle that and keep my composure then I wanted to be able to do the same with others.
SJ/C: Did you always want to work with mothers and babies?
Lisa: I really didn't know until I started working here. When I started at Candler, I had an opportunity go on all the floors, and when I found the nursery, it was just my heart. The nursery was my passion, taking care of the little ones, and because they can't speak for themselves, being a voice for them. I found my calling. I feel this is what God gave me as a gift to share with the world.
SJ/C: What are some of the responsibilities of a Neonatal Intensive Care Unit nurse?
Lisa: Educating the parents on how to care for their little ones, especially those that are pre-term because they may have feeding difficulties and helping parents learn how to give medication if medication is needed. We want parents to feel comfortable before going home with their little one. Also, we help them to adapt to changes, especially if their baby is born with any kind of anomaly, physical issue or pre-maturely.
SJ/C: What makes our NICU so special?
Lisa: I think that the staff at large works very well together as a team. We have a lot of team-focused care. Whenever there are any issues or problems with any baby, we all jump in there and work together. I feel there's a lot of love and compassion for the parents as well as the infants. There's a lot of camaraderie here, everyone works really well together, and we all want to be an advocate for the baby so that the baby gets all the best care the baby can get.
SJ/C: What do you love about being a Telfair nurse?
Lisa: What is not to love? Each delivery is just as special as the first time I actually attended a delivery, even after all these years. It's very gratifying to help a family bring a new little one into the world and adjusting to a new family dynamic. Even now, I have parents that come back and they want to share their moments with us – first birthdays, Christmas cards so we can see how they are growing up. We always encourage them to do so because we are interested to know how things are going after they leave. There's nothing like it. I can't see myself doing anything else than what I am doing now.
SJ/C: What advice would you offer to new nurses or those considering a career in nursing?
Lisa: I thinking finding nursing as your passion is one of the keys. Make sure you use every opportunity you have to learn and grow. It takes time to grow the skills you need in order to perform in nursing. Every day is not easy, but it's worth it because your main objective should be always to give the best care to your patient.
Achievements: Neonatal Resuscitation Program instructor; Level II Nursery certified; McAuley and Lientz nominee (multiple times)
Family: Mom and dad, husband, two sons and a granddaughter
Hobbies: Reading, especially the Bible, sewing, baking and walking