LCRP opens region's most comprehensive lung cancer center
Patients will meet with a team of experts directly to determine best course of treatment
The Nancy N. and J.C. Lewis Cancer & Research Pavilion has opened the region's most comprehensive thoracic cancer practice at the LCRP. It's called the Advanced Thoracic Oncology Center and is a collaboration of multiple specialists led by Advanced Thoracic Oncology Center Medical Director and Interventional Pulmonologist Dr. M. Douglas Mullins, with Southeast Lung Associates, and Thoracic Surgeon Dr. Marc Bailey, with SJ/C Physician Network.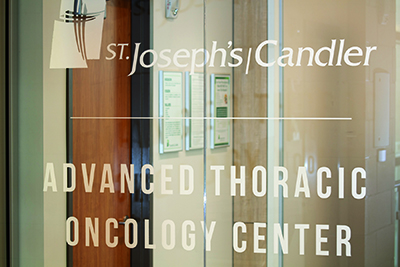 Lung cancer is one of the most commonly diagnosed cancers in both men and women. It's also one of the most aggressive cancers. One of the goals of ATOC is to help expedite treatment – find lung cancer early and then determine the best course of treatment for each individual patient.
But instead of having multiple appointments with different specialists, at the Advanced Thoracic Oncology Center, you will meet with a team all in the same room at the same time. That team includes Dr. Mullins and Dr. Bailey, as well as a radiation oncologist and a dedicated nurse navigator, Kaitlyn Youmans. There's also a dedicated nurse practitioner and respiratory therapist on site.
Patients may come to the Advanced Thoracic Oncology Center through a variety of pathways. Some may be referred by their primary care doctor, some through self-referral, or they may have participated in either the St. Joseph's/Candler Lung Cancer Screening Program and Rapid Access Lung Treatment Program, two programs that set us apart.
The Advanced Thoracic Oncology Center is located at the LCRP, 225 Candler Drive, Suite 201, Savannah, Ga. 31405. You can call us at 912-819-5757.
Rapid Access Lung Treatment Program
The Rapid Access Lung Treatment Program is designed for patients that have pulmonary abnormalities found on a scan or recently diagnosed lung cancer patients. The goal is to try to prevent the spread of lung cancer and give patients back their quality of life.
The program also is convenient for the patient, eliminates anxiety associated with waiting on test results or doctor's visits and designs a treatment plan with quality of life at the forefront.
About our Technology
Monarch Robotic Platform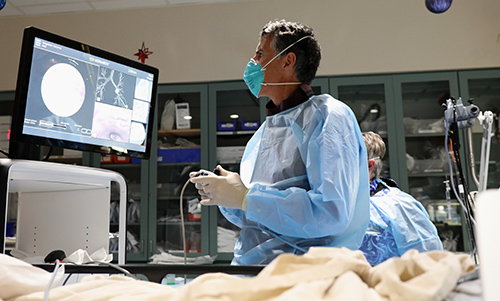 A huge advance in lung cancer treatment is the Monarch Platform, which integrates the latest advancements in robotics, software, data science and endoscopy – the use of small cameras and tools to enter the body through its natural openings.
This latest technology allows for earlier and more accurate diagnosis of small and hard-to-reach lung cancer nodules. It's non-invasive for patients and limits false positive, false negatives and potential side effects.
The team with ATOC will determine if you are the right candidate for the Monarch robot. Dr. Mullins operates the robot at Candler Hospital's Bronchoscopy Suite.
da Vinci Robotic Surgical System for lung cancer
When your lung cancer diagnosis requires surgery, one of the latest advancements in technology that your care team may recommend is the da Vinci Xi Surgical System.
Using small incisions, the highly trained thoracic surgeon can provide a precision treatment with less risk of blood loss, less pain and faster recovery for patients. The da Vinci Xi's immersive 3D-HD vision system provides the surgeon a highly magnified view, virtually extending their eyes and hands into the patient.
The team with the Advanced Thoracic Oncology Center will determine if you are a candidate for da Vinci Robotic surgery. Dr. Bailey operates the robot at Candler Hospital in a surgical suite.
CyberKnife®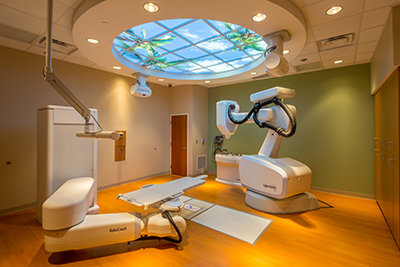 Your lung cancer diagnosis may required radiation therapy through the use of CyberKnife®. Don't let the name fool you - CyberKnife® requires no incisions. It's among the latest and highest quality technology in radiation therapy.
The CyberKnife® allows radiation oncologist to provide a pain-free procedure to treat tumors anywhere in the body. With this tool, physicians can deliver high doses of radiation to small areas with phenomenal accuracy. The pinpoint precision of the CyberKnife® helps to minimize damage to the healthy tissue surrounding the tumor. Its accuracy is measured in sub-millimeters.
Also on the Advanced Thoracic Oncology Center team are radiation oncologists. They will work with the other provides to determine if you are a candidate for CyberKnife®. We have four highly-skilled radiation oncologists that operate CyberKnife® in The CybereKnife® Suite at the LCRP.
About our Physicians
Dr. Douglas Mullins
Dr. Douglas Mullins received his bachelor's degree from the College of William and Mary and his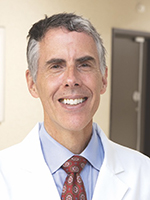 doctor of medicine degree from Vanderbilt. Following that, he completed a residency in internal medicine and a fellowship in pulmonary, critical care and sleep medicine at the University of Virginia.
Presently, he is medical director for the Advanced Thoracic Oncology Center and Candler Hospital's ICU and Pulmonary Services. He co-chair of the Thoracic Multi-Disciplinary Team.
Dr. Mullins is board certified in sleep medicine, critical care medicine, pulmonary medicine and internal medicine. He is licensed in Georgia and South Carolina. He is a member of the American College of Chest Physicians and American Association of Bronchology.
Dr. Marc Bailey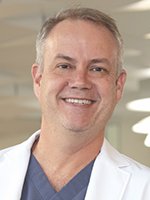 Dr. Marc Bailey received his undergraduate degree from Emory University. He received his medical degree from the Medical College of Virginia in Richmond, Va. and went on to do his residency at Pitt County Memorial Hospital, East Carolina University School of Medicine, in Greenville, NC. He did a fellowship in cardiothoracic surgery at the University of California Los Angeles. Dr. Bailey is a professional affiliate with the American College of Surgeons, Society of Thoracic Surgeons, Southern Surgical Thoracic Surgical Association and International Society for Minimally Invasive Cardiothoracic Surgery.
Dr. Bailey specializes in all aspects of cardiovascular and thoracic disease, including minimally-invasive diagnosis and treatment, cardiothoracic surgery and thoracic oncology surgery. Dr. Bailey has a special interest in robotic approaches to thoracic disease and has conducted research with this technology at the Cardiothoracic Experimental Laboratories at East Carolina University, Greenville, NC. In addition, his interests include international medicine and telemedicine solutions.
Our Location
The Advanced Thoracic Oncology Center is located at the LCRP, 225 Candler Drive, Savannah, Ga. 31405, on the second floor, suite 201. You can call us at 912-819-5757.
Dr. Mullins and a nurse practitioner also see patients who can participate in the program each Wednesday in South Carolina at 300 New River Parkway, Building #26, Hardeeville, SC 29927.
<
For more information or questions about self-referral, please call Kaitlyn Youmans at 912-819-5169.
"CyberKnife® is a registered trademark of Accuray Incorporated and is used with permission."