Meet our co-workers
Once a week, we like to highlight one of our many wonderful co-workers. Find out more about their role in the health system and what they love about working at the Lewis Cancer & Research Pavilion.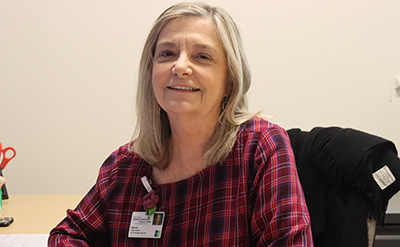 Meet Marcia Thompson, social worker at the Lewis Cancer & Research Pavilion in Savannah. Marcia has worked at the LCRP for 16 years, with another 12 years earlier in her career at Candler Hospital. Marcia likes to tell patients that social workers are able to assist with resources and services needed not related to their medical treatment. She can help with transportation needs or equipment that maybe needed in the home. She can connect patients to resources and foundations in the community that can offer support. Anything that the patient, nurse or doctor identifies as a concern or need, Marcia and the other social workers will try to do whatever they can to help. That applies to caregivers too.
"What I really enjoy about the LCRP is knowing the patients that come through the doors are getting the best treatment available. Being a part of that team and seeing how everybody involved in the patient's care looks at every possibility that is going to best serve the patient is very rewarding. I also enjoy seeing the positive outcomes that we have at the cancer center. Helping someone through possibly the hardest journey of their life is also rewarding. Hopefully, we can make an impact and provide some support and services that helps them. Everyone works as a team. I've seen that throughout the health system. This has been the highlight of my career, working here."
---
Meet Lizzy Norton, nurse practitioner at our SJ/C Gynecologic Oncology and Surgical Specialists practice. Lizzy works directly with patients to initiate and coordinate their chemotherapy, providing education to help her patients feel as comfortable as possible during their treatment. She makes sure patients get scheduled for their chemotherapy at the LCRP, have all necessary lab work done and provides direct treatment if the patient is having any issues. Her next biggest responsibility? Playing cheerleader.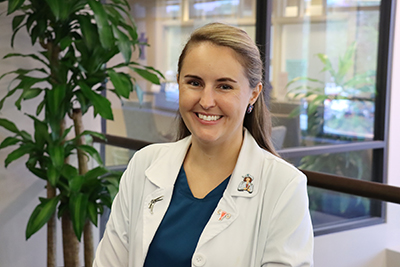 "We meet patients on what could be the worst day of their life when they get a cancer diagnosis and hear the word chemo, and it's really scary. Myself, Julie – our other nurse practitioner – and Dr. (Sarah) Gill, we are very easy to reach. If our patients need us to talk to them, if they are having a problem or if they just need a pep talk, we are here. I think being able to provide that kind of personalized care so they really feel like they are being taken care of and not just a number is one of the best things about our office."
"I love these ladies so much. It's wonderful to meet people and to talk to them about everything besides cancer. It's so wonderful to make those connections and hear those stories and laugh with them and joke with them. It feels like a lot of times I'm visiting with friends during their appointments."
---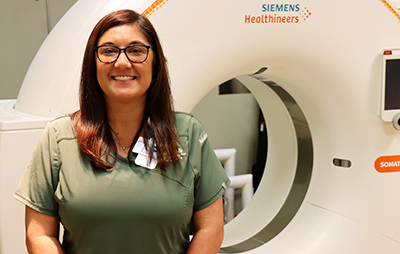 Meet Rashaunda Head, chief radiation therapist at our Savannah radiation oncology location. Rashaunda has worked here for 10 years. Her main responsibility is to ensure all staff radiation therapists have the necessary tools and education to successfully treat each patient safely and accurately. She works on the patient and therapists' schedules to ensure all our patients are moved through the process as efficiently as possible while being respectful of their time.
"I love being able to provide a positive experience for our patients while they are dealing with some of the most stressful and scary situations of their lives. I enjoy talking to patients about what they can expect during their treatments so they are comfortable and can anticipate what will happen as they move along through their treatment process. I am proud to be part of the LCRP team."
---
Meet our LCRP medical physics team, (L-R) Joey Spring, Steven White and Caleb Price. They have a combined 42 years of experience as medical physicists. A medical physicist is responsible for the safe and accurate delivery of therapeutic doses of radiation. That includes a whole host of responsibilities such as overseeing the treatment planning process, calibrating radiotherapy equipment, performing patient specific quality assurance checks, proper care and storage of radioactive materials and ensuring that best practices are followed when it comes to radiation safety.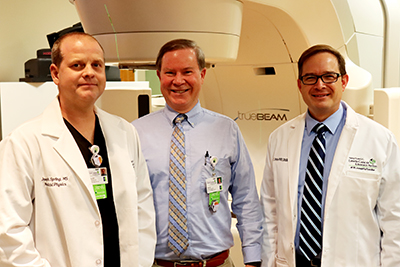 "Medical physicists have a unique combination of scientific and clinical education that makes them crucial to the delivery of quality radiation therapy. Having a qualified medical physics team improves patient outcomes and keeps the LCRP on the forefront of cancer research and therapy."
"LCRP takes a team approach to treating our patients. The different areas of the department do not work in silos without sufficient communication. From physicians to therapists, everyone has a meaningful voice in developing and implementing the patient's care path. This community approach creates a positive work environment, and in the end, ensures that the patient gets the best treatment possible."
---
Meet Candra Murray, oncology infusion manager at our LCRP Jesup practice where we partner with Wayne Memorial Hospital. Candra, who is an oncology certified nurse (OCN), is responsible for working with the team to provide the best care to patients by offering the latest medications and treatment regimens and helping educate both patients and fellow nurses. She also helps the office staff with scheduling and other questions, putting out any "little fires" along the way to ensure patient care is the No. 1 priority.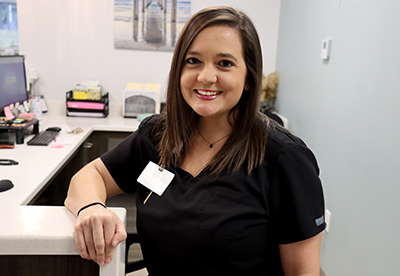 "It means so much to me to be able to bring such expert care to our area. I was born and raised in Waycross and have family here and I also have friends that I grew up with that have become like family. Being able to give this care to them in our small rural community makes such a huge difference and impacts not just the quantity of their life, but more importantly, the quality of their life and even their loved ones. It's truly an honor to get to be part of bringing 'big city' medicine to small rural towns like Jesup and Waycross."
"I have been a nurse for almost nine years and oncology has been the only area I have worked. If you would have asked me 10 years ago, I would have told you that I could never work around cancer. That word holds such negativity in the world. But the patients are the reason I love my job. Cancer patients are so resilient and courageous. They allow me to slow down, step back and take a look at the true meaning of life. Some days it's natural to rather be somewhere besides work, but then I come in and am greeted by a patient who is just happy to be able to have another day at life and living. It's humbling and so very rewarding, the feeling of helping each patient have another day to fight and have an opportunity at life."
---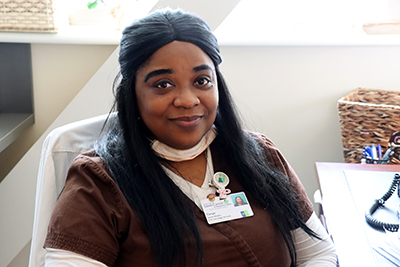 Meet Tonya Ruffin, who's worked for the LCRP for four years. She is a social worker, who functions more like a case manager. Tonya helps patients that are seen by our Summit Cancer Care doctors at our Savannah, Pembroke and Statesboro offices, as well as assist patients at our Hinesville practice. Tonya is a problem solver. She'll help patients get their medication or with insurance issues. She helps provide gas support or hotel assistance if a patient has to travel. She works with outside resources to help patients pay bills or find grants for treatment costs. If there are any barriers to a patient's treatment, Tonya will try to break those barriers.
"I love everything about my job. Believe it or not, it's empowering. It empowers me and inspires me to be able to help our patients, to be able to give them the support they need while they are on this journey. I feel good when I know I've done all I could to help a patient; that empowers me and inspires me."
"I think what I like most is that we get to know the patients and the patients get to know us because we work with them for a period of time. It makes you feel good when our patients walk in the door and they are smiling. They are happy to see us. I'm inspired that despite everything they are going through when they walk in, they are happy to see our familiar faces. I've been given flowers and cards that say thank you and we're thinking about you – despite what they are going through. That's what I love about this job. We really establish relationships with our patients."
---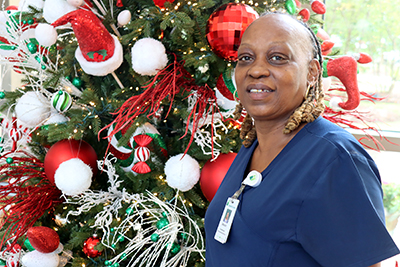 Meet Deborah Smith, housekeeper at the LCRP. Deborah has worked at the LCRP for six years and before that spent 16 years in the transport department at St. Joseph's Hospital. She is responsible for making sure the LCRP building is clean and as germ-free as possible, a very important role for our patients and staff to stay safe.
"I love my job. I love to meet new people. These patients have good days and bad days, and they just need someone to talk to, so I'll talk to them and hopefully help brighten their day. I know they go through a lot, and they want to see a bright, smiling face. They don't need anyone huffing and puffing around them. So it's important to show them kindness because they are going through so much."
"I also love my coworkers. They are very respectful. They help out. I just love them to death, and they love me too. It feels good when someone appreciates you and tells you that you are doing a good job and thanks you. It means a lot to me. I always tell them thanks for caring and that I appreciate them too."
---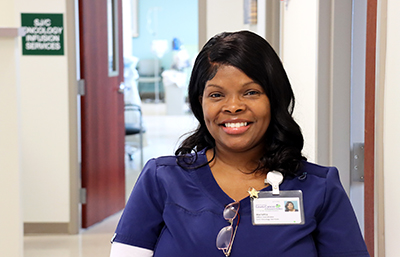 Meet Marietta Brown who is the office coordinator and medical assistant at the LCRP's Hinesville office where we partner with Liberty Regional Medical Center. Marietta has worked in a variety of roles for the LCRP for the last eight years but has really found her home at our Hinesville office. She is often the first and last face patients see, making sure they have everything they need for their appointment. She helps with medical records, insurance and copays, as well as handling incoming and outgoing referrals. She also makes sure the office and staff have everything they need to do their jobs.
"What I love about the job is being here to help our patients as much as we can. They are sometimes afraid, being referred to an oncology center. We explain to them why they are being seen. You have to show compassion so they won't be scared. You try to be friendly and speak positive in any situation."
"I'm so grateful we are here in Hinesville. A lot of patients don't have transportation to travel to Savannah or Brunswick. I'm so happy we are here to assist the public and their needs in Hinesville and the little surrounding areas in Liberty County. It's such a blessing to me to be here to help cancer patients. We see them every week – Mondays or Fridays for lab work and then on Wednesday and Thursday for treatment. You really get to know them. It's like a family here."
---
Meet Tiffany Harkleroad, medical oncology/hematology nurse practitioner at our LCRP Waycross practice where we partner with Wayne Memorial Hospital. Tiffany is AOCNP credentialed (Advanced Oncology Certified Nurse Practitioner). As the nurse practitioner in the office for the last three years, Tiffany sees all patients with cancer and blood disorders. Her four key responsibilities are to assess, discuss, educate and manage. She also works in collaboration with other specialties whether its pathology, radiation or surgery.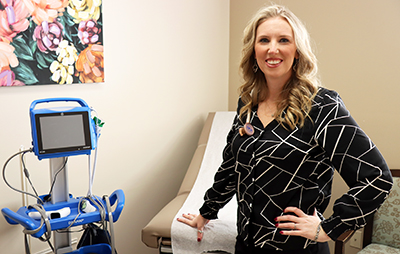 "Hands down what I love about my job is the patient connection, particularly since we're in a small community. We get attached. I see them at ball games, community events or a friend's birthday party. They know that you care, and that in turn develops a level of trust that is vital within this field. The connections I have been blessed with within the oncology network have also been gratifying. I often am reminded that working in oncology can be very challenging. In hindsight, it can be so rewarding as well. Our patients are living longer, fuller lives with the help of new treatment options. The advancements we've made in the last 15 to 20 years is amazing. Being able to help a patient with a terminal illness make it to their daughter's graduation or grandson's next birthday brings such joy to us."
"These patients treat you like their own family. They make us feel as special as we try to make them feel. I am excited to help bring more advanced treatment and testing options to the Waycross area. For so long, patients had to travel so far to get quality oncology care. While we still may send out to a tertiary center for services we just can't do here, it's still exciting to be able to continue to work collaboratively with the patient and the other providers so that they may receive as much care closer to home with only a few trips elsewhere, if at all. To say I'm ecstatic to be a part of bringing other advancements and treatment possibilities to this community is an understatement."
---
Meet Morgan Fink, clinical dietitian for the LCRP in Savannah. Morgan works directly with our radiation oncology patients, a position she's held for a year and a half. As a dietitian at the LCRP, Morgan helps identify patients who are at high risk of nutritional complications due to their diagnosis or treatment. She helps them meet their nutritional needs, minimize side effects and be a resource for education and counseling.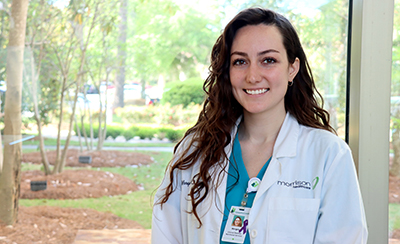 "I really like helping other people, and I really enjoy food. So being able to put those two things together is very fulfilling. I love being able to create a relationship with my patients. You just get to meet some fantastic people. My aunt is an oncology dietitian so I was able to shadow her. As soon as I shadowed her for a day, I knew this is what I wanted to do."
"The LCRP is really good at creating a community for the patients. They are there for the patients from day one through after they are finished with their treatment. There's really an awesome sense of community created here, and I'm so happy to be a part of it."
---
Meet Allen Chau, a radiation therapist in the radiation therapy department at our Savannah LCRP site. Allen has worked here for more than 11 years. He and his teammates are the ones who administer high dose radiation to the target site to treat cancer, or in some cases, help relieve pain. Allen works on both the CyberKnife and TrueBeam machines.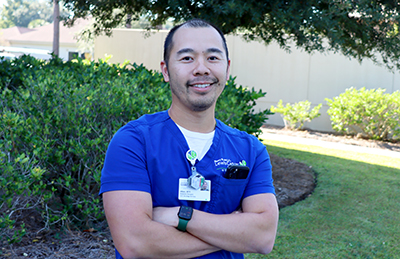 "The best part of my job is I get to interact with the patients. I get to joke around with them. Radiation therapy is not a one and done thing. Our patients come to us repeatedly until they are all done with their treatments. We see them multiple times throughout the week, sometimes up to eight weeks of treatment. You build a relationship with them. You bond with them. I think our cancer patients are the most optimistic patients. We do get good results from radiation treatments, and I feel like the cancer patients have the best attitude towards life in general."
"I was born and raised in Savannah. I was actually born right across the street at Candler Hospital. I graduated from Windsor Forest High School and then went to Armstrong for their radiation therapy program. This is home. This is a great place to work."
---
Meet Alaina Underberg, Regulatory & Compliance Manager and the Georgia NCORP CCDR & Symptom Science Coordinator. Alaina works directly with our robust clinical trial program, ensuring that we are following all regulations and practices. She makes sure our patients have access to safe and needed clinical trials – throughout the entire state of Georgia with our partnership with Ga. NCORP. She also ensures patient cases are being followed closely and any updates made to currently open trials are properly handled. She makes sure all LCRP staff that work with patients on clinical trials are credentialed.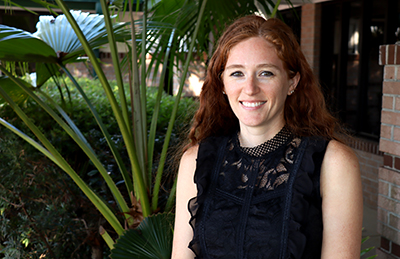 "I love this organization. After grad school, this was the first job I held working at the LCRP, and I've made my way up through promotions because I don't want to leave. I like working here. I like what we do for our community, and how it's a small, faith-based institution. I think all of us at the LCRP have a No. 1 goal to be very focused on making sure our patients have the best care. We might be small, but we are mighty. We say our clinical research team is very small, but we are a strong team."
"I also like being able to work with the doctors. We have a great relationship, and we meet on a regular basis for things they need to sign off on. I am not patient facing, but I still have a good relationship behind the scenes. I do like being able to provide clinical trials to our patients. For some patients, a clinical trial may be their last hope or a better treatment option. It's a patient benefit that I like most, but I do like being behind the scenes."
---
Meet Tallie Wells, an infusion nurse with our LCRP Hinesville practice where we partner with Liberty Regional Medical Center to bring cancer care to the Liberty County region. Tallie, who was born and raised in Hinesville, works directly with patients who need chemotherapy, immunotherapy or other treatments. She helps patients with nutritional needs and symptom management. Tallie also does a lot of patient education.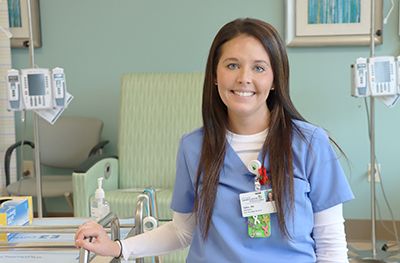 "I love the fact that I can represent the LCRP in Hinesville because I was born and raised in Hinesville. My dad's family has been here for generations. I have taken care of patients that I have known my entire life. This community means a lot to me. These are my roots and to be able to give cancer care in this more rural area versus Savannah or other bigger towns, it's incredible. It means a lot to me. I am very blessed to be able to represent the LCRP in my little community."
"I love this job; love it. The patients are the best. In my nursing career so far, oncology patients are the most humble. They are the sweetest. They make the job worth it. Then my coworkers – I have never had such a strong coworker family before. That helps the work environment tremendously. When most people dread on Sunday going to work on Monday, I don't. It's a great feeling."
---
Meet Kathy Wright, a certified registered nurse in palliative and hospice care. She is the nurse for our Palliative Care Clinic. She works directly with patients in person and on the phone to make sure all their needs are met including medication refills, pain management and much more. Kathy has worked in that role for five years.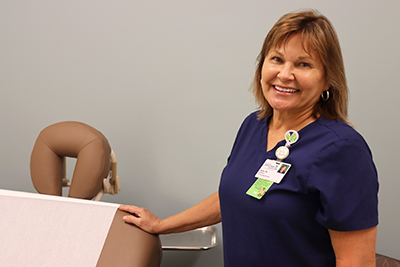 "Palliative care patients are wonderful. They are very gracious. They are very humble. I was a hospice nurse for 10 years and transitioned from hospice to palliative. It's similar but it's not the same. The palliative care patients are just really great to work with, very appreciative. They want to feel good, and we want them to feel good."
"I also love the people I work with. I just love what I do. I just love working with patients. You really get to know the patients one-on-one, especially when they call on the phone. We have little chats about all sorts of stuff. I just really love being a palliative care nurse and hopefully can do it for a little while longer."
---
Meet Cementhia Bennett. She's a new face to the LCRP but most often the first face you see entering the building. Cementhia is a guest service agent who's been here for three months. It's her job to greet patients and make sure they know where to go. You'll often see her assisting a patient get in a wheelchair or walking them to the right office for their appointment.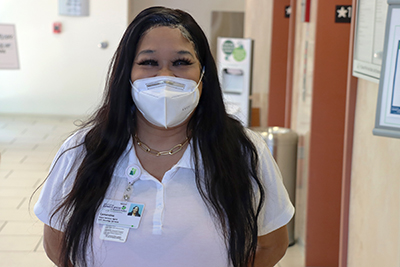 "I'm the first face they see and sometimes the last face they see, and I want to make sure they are as comfortable as possible. I try to smile and joke around and give them encouragement because you don't know what type of night they had before they came here. This is a different type of customer service. I love it. I look forward to coming to work every day. I believe everyone, from the patients to my coworkers, deserves respect and a positive attitude. In the end, I want to make sure the patients remember me."
"I have met some really nice people from the patients, their guests and my coworkers. They help my day go by smoothly because I can go to them and ask them questions, especially with me being new."
---
Meet Debbie Christian, facilities manager for the LCRP. Debbie has worked for St. Joseph's/Candler for 25 years and helped open the doors of the LCRP 16 years ago, where she remains today. As facilities manager, Debbie wears many hats, including making sure the inside and outside of the building appear properly, making sure equipment and amenities are working correctly and overseeing construction projects. She also helps order furniture and helps oversee other LCRP locations such as Bluffton and Pembroke.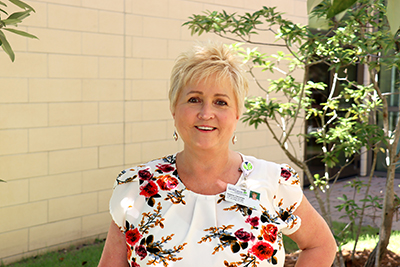 "My customers are our patients and our coworkers. If you have a light out, you call me. If you have a leak, you call me. If you are hot or cold, you call me. The mother hen, I call myself because it's my job to make sure our coworkers are able to work in an environment that is comfortable to them, as well as our patients. We as employees donate to this place, the community donates, the patients donate to this place – they deserve a beautifully, well-kept building when they come here. We owe it to the patients, visitors and coworkers to provide a beautiful, efficiently run cancer center, and it's my job to make it happen."
"I just love being able to help people. I love feeling needed and depended on. Even though I'm not directly in patient care, the patients are here regularly. I meet them in the elevators or sitting in the lobby. We become friends. I've made some very good friends throughout my 16 years we've been in this building that were patients. Another thing that makes me proud working here is the way our coworkers treat patients. Every patient that I encounter brags about how well they were taken care of. I never hear any complaints, even when I'm out in the community. It makes you proud when you know your coworkers are doing the right thing."
---
Meet Christina Morales, who's worked here for 18 years. Christina is the radiation oncology manager for the Bluffton and Hilton Head radiation oncology offices. She addresses the needs of both coworkers and patients, making sure both have the right resources. She also is the liaison between management in Savannah and South Carolina.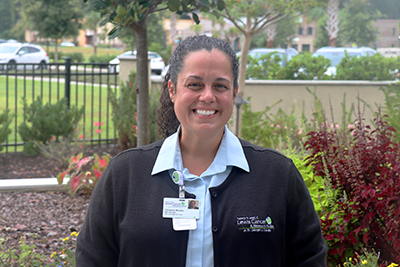 "I love our team, from upper management to everybody below them. I feel like we've grown up together. A lot of us have been here a while, but even the newcomers, we all just jump in there to get the job done. Out here on the South Carolina side, we are a small team compared to the main office so that last part of our job description says I'll do whatever is needed. I love that about our team."
"A lot of our patients from this area are from up North, and I'm originally from New Jersey. I love making that connection with patients. I'll be in the office and hear that accent and come talk to them, find out where they are from, and usually they are not too far from where I grew up. It's making that connection. When people move to this community, a lot of them are retirement age. Cancer wasn't something on their bucket list. I love being there for them and helping them through their journey and cheering them on whenever they come into our building."
---
Meet Juan Rosario-Rodriquez, project manager at the LCRP. Juan has worked for the LCRP for a year and has many responsibilities including overseeing grants, construction and most recently building and launching a new patient portal. Juan visits all our LCRP sites from Savannah to Bluffton to Statesboro.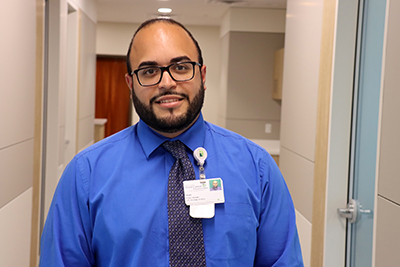 "I like that I interact with a little bit of everybody. I work with both the clinical and administrative side. Most of my projects, I'm never 100 percent by myself. I'm always working with somebody. For example, for the American Cancer and Lung Cancer grant, I'm working with the navigator. With construction, I'm working with admin and the contractors. I like how it's always something different I'm working on. I do appreciate putting out the fires here and there. It's a little bit stressful, I'm not going to lie, but it keeps you on your toes."
"What's great about working here are the people. This doesn't go just for the clinical side, but also for the administrative side – they are all patient advocates. The patients' needs have always been No. 1 for everybody, and that includes at the locations I've gone to."
---
Meet Debbie Pinckney, office manager for the St. Joseph's/Candler and Summit Cancer Care partnership. Debbie has been with the Health System for seven years. In her current role, Debbie is responsible for patient care. You can often find her greeting patients, asking if they need water or simply offering them a piece of candy. She is also responsible for day-to-day operations of the staff and providers and making sure schedules are aligned.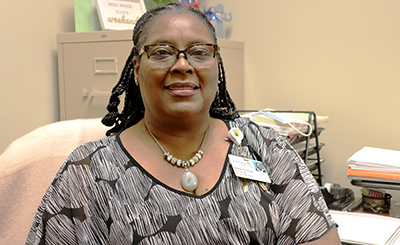 "I like to say I'm Ms. Customer Service, and I love it. I really enjoy what I do. We are working with different patients with different illnesses, and we have to be there for them. I offer to pray with them if they want to pray. I make sure I put little candies out in the lobby for them. We want to offer them the best care. Knowing our mission starts with 'Rooted in God's love', as a Christian, it makes me feel like I'm doing the work of God."
"I also enjoy working with our providers and staff. You really get to know them and become personable with them. We are like a family. The providers have a very important job, but it's not that their job is way more important. We are a team."
---
Meet Jacob South, manager of genetic counseling services at the LCRP. Jacob has worked as a genetic counselor here for 11 years. He meets with patients on a daily basis to discuss their medical history and family history to determine if genetic testing is right for them. A genetic test is conducted through a blood draw or saliva collection. Jacob then helps patients understand the results and next steps.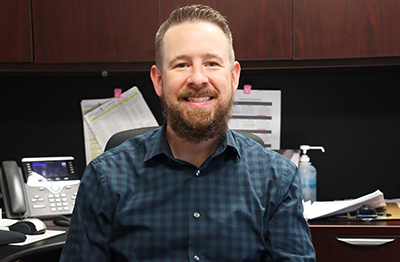 "I enjoy that I get to help people and that it's one-on-one with our patients. I also enjoy the feedback that I get from patients. Many of the patients that I see it's their first time seeing a genetic counselor and for most of them it's their first time even being seen at a cancer center. It's nice knowing this service is a niche of patient care that not many do and patients tend to find it really helpful. I enjoy the fact and appreciate that we have all these services to take care of our patients."
---
Meet Susan Gunby, financial navigator at the LCRP. She's worked in that role for us for 13 years. She helps cancer patients navigate their insurance, understand their bills, helps find financial assistance, helps find free medications or assistance with medication co-pays and new insurance enrollment, just to name a few things she does.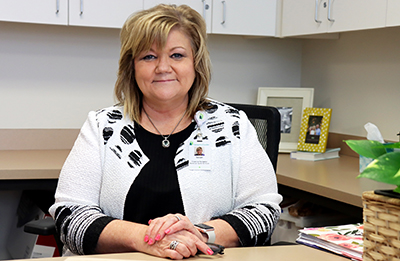 "I introduce myself as part of our care team, and we wrap our arms around them and take care of them at every avenue that we possibly can. No matter what obstacles are in the way, I'm here and we'll figure it out together. It makes the patient feel like they have someone there for them. We pride ourselves on offering this service. I have a passion for what I do. I love finding assistance for patients and navigating them through changes. I think meeting one-on-one is a benefit. When you talk face to face to that patient, you have a connection. They trust you. It becomes a bond, that you are part of their care team. I love helping our patients and giving them the information that they need."
---
Meet Melanie Collum, the officer manager for the St. Joseph's/Candler – South Carolina Cancer Specialists oncology practice in Bluffton. She's worked there for eight years and is responsible for patient care and oversees the daily operations from patient scheduling to staff scheduling and more.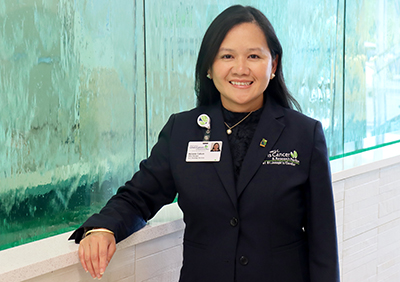 "What I enjoy about my job is being able to provide quality, excellent patient care. Even the scheduling part, the least we can do for our patients is make sure everything is scheduled appropriately and in a timely manner. I think that's very important to help alleviate the stress of whatever our patients are going through. It may be a little thing, just a schedule, but it means a lot to them."
"What I enjoy about working here is meeting other coworkers and becoming friends with them. I am originally from the Philippines and most of my family is not here. My coworkers may not realize it, but they've become like a second family to me. I also love our Mission, Vision and Core values which is 'Rooted in God's love, we treat illness and promote wellness for all people.' Being able to be a form of support to our patients, providers and staff is what I value the most. My time and compassion are the most valuable thing I can give to anyone."