Meet our co-workers
Once a week, we like to highlight one of our many wonderful co-workers. Find out more about their role in the health system and what they love about working at the Lewis Cancer & Research Pavilion.
Meet Kathy Wright, a certified registered nurse in palliative and hospice care. She is the nurse for our Palliative Care Clinic. She works directly with patients in person and on the phone to make sure all their needs are met including medication refills, pain management and much more. Kathy has worked in that role for five years.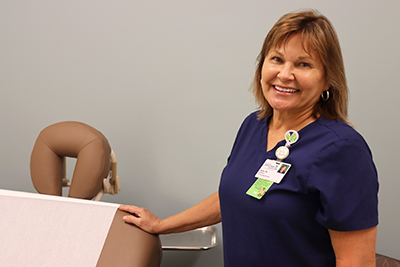 "Palliative care patients are wonderful. They are very gracious. They are very humble. I was a hospice nurse for 10 years and transitioned from hospice to palliative. It's similar but it's not the same. The palliative care patients are just really great to work with, very appreciative. They want to feel good, and we want them to feel good."
"I also love the people I work with. I just love what I do. I just love working with patients. You really get to know the patients one-on-one, especially when they call on the phone. We have little chats about all sorts of stuff. I just really love being a palliative care nurse and hopefully can do it for a little while longer."
---
Meet Cementhia Bennett. She's a new face to the LCRP but most often the first face you see entering the building. Cementhia is a guest service agent who's been here for three months. It's her job to greet patients and make sure they know where to go. You'll often see her assisting a patient get in a wheelchair or walking them to the right office for their appointment.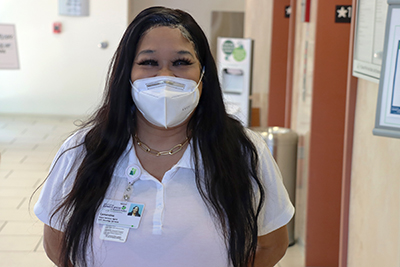 "I'm the first face they see and sometimes the last face they see, and I want to make sure they are as comfortable as possible. I try to smile and joke around and give them encouragement because you don't know what type of night they had before they came here. This is a different type of customer service. I love it. I look forward to coming to work every day. I believe everyone, from the patients to my coworkers, deserves respect and a positive attitude. In the end, I want to make sure the patients remember me."
"I have met some really nice people from the patients, their guests and my coworkers. They help my day go by smoothly because I can go to them and ask them questions, especially with me being new."
---
Meet Debbie Christian, facilities manager for the LCRP. Debbie has worked for St. Joseph's/Candler for 25 years and helped open the doors of the LCRP 16 years ago, where she remains today. As facilities manager, Debbie wears many hats, including making sure the inside and outside of the building appear properly, making sure equipment and amenities are working correctly and overseeing construction projects. She also helps order furniture and helps oversee other LCRP locations such as Bluffton and Pembroke.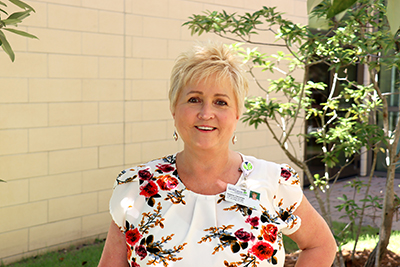 "My customers are our patients and our coworkers. If you have a light out, you call me. If you have a leak, you call me. If you are hot or cold, you call me. The mother hen, I call myself because it's my job to make sure our coworkers are able to work in an environment that is comfortable to them, as well as our patients. We as employees donate to this place, the community donates, the patients donate to this place – they deserve a beautifully, well-kept building when they come here. We owe it to the patients, visitors and coworkers to provide a beautiful, efficiently run cancer center, and it's my job to make it happen."
"I just love being able to help people. I love feeling needed and depended on. Even though I'm not directly in patient care, the patients are here regularly. I meet them in the elevators or sitting in the lobby. We become friends. I've made some very good friends throughout my 16 years we've been in this building that were patients. Another thing that makes me proud working here is the way our coworkers treat patients. Every patient that I encounter brags about how well they were taken care of. I never hear any complaints, even when I'm out in the community. It makes you proud when you know your coworkers are doing the right thing."
---
Meet Christina Morales, who's worked here for 18 years. Christina is the radiation oncology manager for the Bluffton and Hilton Head radiation oncology offices. She addresses the needs of both coworkers and patients, making sure both have the right resources. She also is the liaison between management in Savannah and South Carolina.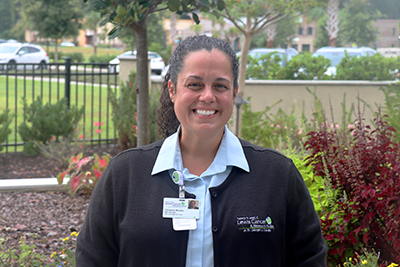 "I love our team, from upper management to everybody below them. I feel like we've grown up together. A lot of us have been here a while, but even the newcomers, we all just jump in there to get the job done. Out here on the South Carolina side, we are a small team compared to the main office so that last part of our job description says I'll do whatever is needed. I love that about our team."
"A lot of our patients from this area are from up North, and I'm originally from New Jersey. I love making that connection with patients. I'll be in the office and hear that accent and come talk to them, find out where they are from, and usually they are not too far from where I grew up. It's making that connection. When people move to this community, a lot of them are retirement age. Cancer wasn't something on their bucket list. I love being there for them and helping them through their journey and cheering them on whenever they come into our building."
---
Meet Juan Rosario-Rodriquez, project manager at the LCRP. Juan has worked for the LCRP for a year and has many responsibilities including overseeing grants, construction and most recently building and launching a new patient portal. Juan visits all our LCRP sites from Savannah to Bluffton to Statesboro.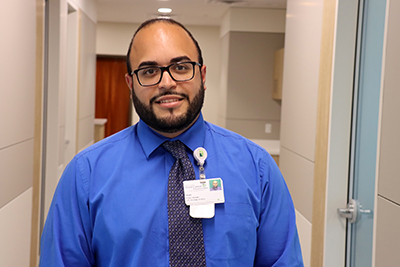 "I like that I interact with a little bit of everybody. I work with both the clinical and administrative side. Most of my projects, I'm never 100 percent by myself. I'm always working with somebody. For example, for the American Cancer and Lung Cancer grant, I'm working with the navigator. With construction, I'm working with admin and the contractors. I like how it's always something different I'm working on. I do appreciate putting out the fires here and there. It's a little bit stressful, I'm not going to lie, but it keeps you on your toes."
"What's great about working here are the people. This doesn't go just for the clinical side, but also for the administrative side – they are all patient advocates. The patients' needs have always been No. 1 for everybody, and that includes at the locations I've gone to."
---
Meet Debbie Pinckney, office manager for the St. Joseph's/Candler and Summit Cancer Care partnership. Debbie has been with the Health System for seven years. In her current role, Debbie is responsible for patient care. You can often find her greeting patients, asking if they need water or simply offering them a piece of candy. She is also responsible for day-to-day operations of the staff and providers and making sure schedules are aligned.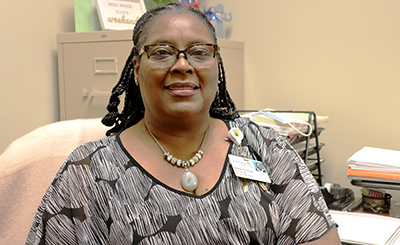 "I like to say I'm Ms. Customer Service, and I love it. I really enjoy what I do. We are working with different patients with different illnesses, and we have to be there for them. I offer to pray with them if they want to pray. I make sure I put little candies out in the lobby for them. We want to offer them the best care. Knowing our mission starts with 'Rooted in God's love', as a Christian, it makes me feel like I'm doing the work of God."
"I also enjoy working with our providers and staff. You really get to know them and become personable with them. We are like a family. The providers have a very important job, but it's not that their job is way more important. We are a team."
---
Meet Jacob South, manager of genetic counseling services at the LCRP. Jacob has worked as a genetic counselor here for 11 years. He meets with patients on a daily basis to discuss their medical history and family history to determine if genetic testing is right for them. A genetic test is conducted through a blood draw or saliva collection. Jacob then helps patients understand the results and next steps.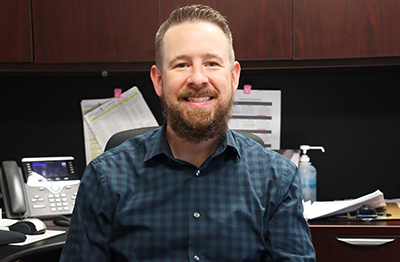 "I enjoy that I get to help people and that it's one-on-one with our patients. I also enjoy the feedback that I get from patients. Many of the patients that I see it's their first time seeing a genetic counselor and for most of them it's their first time even being seen at a cancer center. It's nice knowing this service is a niche of patient care that not many do and patients tend to find it really helpful. I enjoy the fact and appreciate that we have all these services to take care of our patients."
---
Meet Susan Gunby, financial navigator at the LCRP. She's worked in that role for us for 13 years. She helps cancer patients navigate their insurance, understand their bills, helps find financial assistance, helps find free medications or assistance with medication co-pays and new insurance enrollment, just to name a few things she does.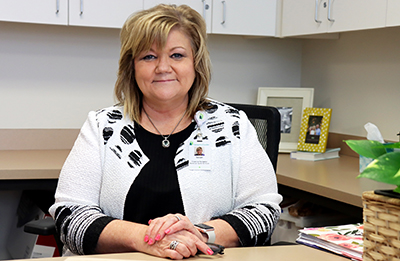 "I introduce myself as part of our care team, and we wrap our arms around them and take care of them at every avenue that we possibly can. No matter what obstacles are in the way, I'm here and we'll figure it out together. It makes the patient feel like they have someone there for them. We pride ourselves on offering this service. I have a passion for what I do. I love finding assistance for patients and navigating them through changes. I think meeting one-on-one is a benefit. When you talk face to face to that patient, you have a connection. They trust you. It becomes a bond, that you are part of their care team. I love helping our patients and giving them the information that they need."
---
Meet Melanie Collum, the officer manager for the St. Joseph's/Candler – South Carolina Cancer Specialists oncology practice in Bluffton. She's worked there for eight years and is responsible for patient care and oversees the daily operations from patient scheduling to staff scheduling and more.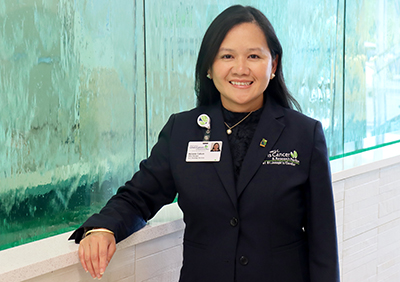 "What I enjoy about my job is being able to provide quality, excellent patient care. Even the scheduling part, the least we can do for our patients is make sure everything is scheduled appropriately and in a timely manner. I think that's very important to help alleviate the stress of whatever our patients are going through. It may be a little thing, just a schedule, but it means a lot to them."
"What I enjoy about working here is meeting other coworkers and becoming friends with them. I am originally from the Philippines and most of my family is not here. My coworkers may not realize it, but they've become like a second family to me. I also love our Mission, Vision and Core values which is 'Rooted in God's love, we treat illness and promote wellness for all people.' Being able to be a form of support to our patients, providers and staff is what I value the most. My time and compassion are the most valuable thing I can give to anyone."