Safety Zone: Meet Tru-D, the bacteria killing robot at St. Joseph's/Candler
Safety Zone
Oct 6, 2020
Move over, Wall-E. You're cute and all, but you're still a fictional character from a Pixar movie.
At St. Joseph's/Candler, we've made room for a real-life hero, Tru-D.
Her full name is Tru-D SmartUVC, and she is a pioneer in ultraviolet disinfection and the gold standard in health care. Tru-D (short for Total Room Ultraviolet Disinfection) works as a complement to St. Joseph's Hospital and Candler Hospital's comprehensive cleaning and disinfection program, ridding surgery suites, ICU rooms, patient rooms, emergency rooms and other areas of harmful pathogens such as C. difficile, which is one of the hardest microorganisms to kill.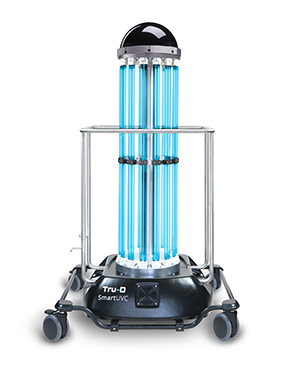 "Every surface that the Tru-D light touches has the ability to kill any spores and bacteria that remain on those surfaces," says Gina Snead, manager of environmental services at St. Joseph's Hospital.
UVC energy is proven to be an effective and eco-friendly way to reduce the risk of dangerous microorganisms in any environment. Studies show Tru-D is able to reduce the relative risk of colonization and infection among patients in hospital settings, in combination with highly compliant manual disinfection.
Both St. Joseph's Hospital and Candler Hospital have a Tru-D robot. She is used up to 30 times a day after COVID discharges, C. diff discharges and in surgery suites and other areas of the hospital as needed, Snead says.
How Tru-D works
After one of our environmental services co-workers cleans the room with traditional, manual methods, Tru-D is rolled in to complete the process. She is placed in the center of the room. The bed is stripped of linen, trash bags are removed from bins, cabinet doors are opened and all equipment and furniture is pushed away from the walls.
"The reason we do all that is because everywhere the light touches, there is opportunity to clean," Snead says.
The robot is turned on from outside the room using an iPad. After answering a few questions, Tru-D's patented Sensor360 technology instantly analyzes the unique contents, shape and size of the room.
And then the countdown begins.
After a few seconds – just to make sure everyone is out of the room – Tru-D floods the space with the proper amount of UVC energy to zap any lingering bacteria and spores. Tru-D tracks infection control data and simultaneously uploads the information to the system.
Tru-D spends whatever time is necessary to confidently eliminate infectious germs from contaminated surfaces before shutting down and sending a notification through the iPad or text message that disinfection is complete.
"The addition of Tru-D to environmental services allows us to not only make sure our hospitals are germ-free for our patients, but also for us to protect our co-workers who work in those settings every day," Snead says.
Also in this series: